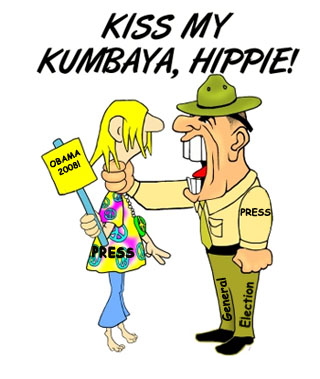 Observing the media coverage of the primary war for the Democratic nomination, I can't help but watch in amazement how the collective mainstream media press has apparently decided to dance around candidate Barack Obama, singing 'Kumbaya' loudly and farting in the general direction of the Clintons and John Edwards in the process. Amazement, because it won't last.
Right now, any attack by the Clintons (or Edwards, or anybody else for that matter) is either completely ignored, or berated as something close to Pure Evil by the MSM. Whatever Bill Clinton says, it is now 'racist' or meant to 'damage Obama'. Even when Clinton calls Obama's candidacy so far "a fairy tale", by which Clinton obviously means the non-critical, out-of-this-world aura the MSM has bestowed upon the Senator from Illinois, Clinton is attacked by hissing snakes. The Obama campaign doesn't have to do squat.
Sure, now you're thinking that I believe that Bill Clinton isn't purposely throwing in the race-thing. Of course he is, but get this: that's not my point. The point is that if/when Obama (or one of his surrogates) throws in some coded sentence that could be interpreted as racially tinged, but also could not, Obama is left alone.
But whenever Clinton says something that could be racially tinged, oh boy – there comes the Cavalry of the 1st Hypocrites Regiment, stormin' out Fortress Moral Outrage!
Yet what I want to know is: will the press corps still defend Obama against the attack of Republican X during the general election campaign? Will the same press people hiss and harr-umph against a Republican campaign surrogate if/when he says that Obama may have a hidden agenda? Will the same press corps storm out of the fortress again to bash the GOP candidate?
Of course they won't. As with every long-winded campaign, the dynamics in this campaign will have changed as well within three months or so. Why? Because journalists are human, believe it or not.
Communicatiestrateeg en schrijver van het boek 'Megafoonpolitiek'. Op Twitter te vinden als @kajleers. Politiek bewust, voormalig financieel-economisch journalist, muziekmaker, professionele kletskous, schrijver. Geeft ook social media-trainingen, denkt graag met je mee over communicatiestrategie. En ja, content is en blijft King.