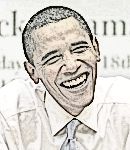 John McCain is on the offensive, and for all the wrong reasons. He has to find a way to dent Obama's armor. For all intents and purposes, Obama is able to keep the initiative, constantly forcing his adversary to react and take on a defensive position. He is almost constantly asked by the media to respond to new Obama ploys.
In an effort to break that spell, McCain seems to have started a new offensive, directly attacking Obama's persona. That puts him right where team Obama wants him. Unless something odd happens: if this continues, Obama will win the election.
Communicatiestrateeg en schrijver van het boek 'Megafoonpolitiek'. Op Twitter te vinden als @kajleers. Politiek bewust, voormalig financieel-economisch journalist, muziekmaker, professionele kletskous, schrijver. Geeft ook social media-trainingen, denkt graag met je mee over communicatiestrategie. En ja, content is en blijft King.